Ummm...Wow.
Mood:
not sure
Now Playing: For all the marbles.
It has been a while, for sure.
A great deal has happened since my one and only enthusiastic blog entry. For the good, been having a great whirlwind of creative endeavors, ranging from the architectural to the truly "bizarre". I think the wildest artistic thought bubble was trying to recreate that pencil topper Gnome from the Denny's commerical, because upon seeing it, I just knew I had to have one.
Then the Bad happened, which turned Ugly.
My one constant aside from my PTSD and sleep apnea, has been my art and anomalous medical issues. I once told my friends, even my kids if they would remember that I never seem to come down with the normal things, like a cold or a broken bone. Rather, I get plagued with the textbook anomalous maladies. Had a few scares recently with a ganglion cyst developing directly on the tendons and veins of my right wrist, which for some reason has weakened some. The osteo in the bones and especially my neck is giving me Hell, and my love is getting accustomed to sleeping with "Darth Vader" since I must hook up to a CPAP machine just to get my customary four hours of sleep a day. No more, no less.
Yeah, I know, that's not good. But neither is 702 apnea episodes in a two hour period either.
The worst of the trials to keep me from my creative spark has been an unexplained proptosis. I'll save you the Google and the running for your dictionaries by simply saying a "proptosis" is when an internal organ is moved out of its place. In this bizarre incident, it was my right eye right around the Samhain/All Hallows Eve holiday.
What can I say about that? Well, for one, it hurt like Hell. The cranial pain was severe, and ice packs, Tylenol, Aspirin, and even my Carisoprodol I take for the osteo pain wouldn't touch it. But the real suffering, was the visual changes. I literally saw two of everything, and two things at an angle trying to merge with one another. My first thoughts were "Oh crap, I've just had a stroke!". But my Doctor, who was "Janie on the Spot" bless her had me looked at, specifically my grey porridge and the scans were normal. Blood tests were normal too. Blood pressure was normal. In short...I was normal.
What caused it, I don't know, and the eye physicians told me after a barrage of tests that there was no remedey, save "time". They gave me weeks to months for it to "right itself" I believe the woman doctor said, and well, it took about three weeks before it did just that. The eye moved back into place(which before hand, I had a serious Jack Elam thing going on..) but I only get about four hours (see the recurring anomaly??) of good vision per day. For the curious, I was in severe Snake Plissken mode: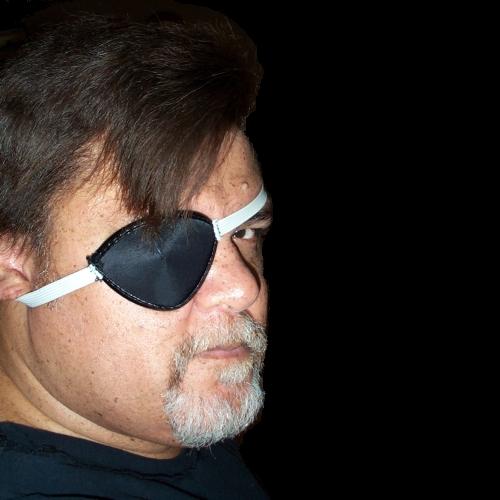 I will say with no shame at all I went through the four phases of crisis in four days. Day 1, cried like a baby. Please understand, as a visual artisan my eyes are my life and well, I always liken a visual artist without sight like a wolf with no teeth. Day 2, I was mad at the world. Seriously, I walked the half a mile to the post office, tapping my cane furiously and saying things to the heavens like "Is that all you got?" or to the Fates, "Hey, if you take me out, THEN who will you get your sport with!"
Crap like that.
Day Three found me making package deals with the unseen forces or dieties if you prefer, pretending to cull all manner of behavior ranging from ill thoughts to lessening my intake of French Pastry.
Hey, you cut the deals where you can when you are desperate.
By Day 4, I was back to my original Buddhist leanings of "Well, these things happen in life and I best make peace with it. These are merely the trials all beings face."
That seemed to work best, because even with the pirate thing going on, I finished writing my Elder Scrolls Morrowind novel, The Heir to the Lokken Kingdom inspired by the various mods and modders who have enchanced the game Morrowind by leaps and bounds. Must have done something right, because my Elizabeth softened at many a chapter, and wept at a few as well. Can't speak for the masses, because well, we all know how such things transpire on the Internet.
Speaking of Morrowind, I managed to create some pretty fun domiciles and figurines from the game utilizing existing toy lines in what is affectionately known to us as "Customizing". There are other terms folks use like "Repurposing" and even "Kitbashing", but I like "Customizing". Sounds kinda' classy. Anyhoo, I first started with figures in 1:24 scale, because I have a great love of fantasy and the Lord of the Rings movies produced some seriously sweet toys by the company Play Along. With those, and some Dungeons and Dragons miniatures, I was able to whip up a host of personalities from not only the "vanilla" unmodded game, but also some from mods: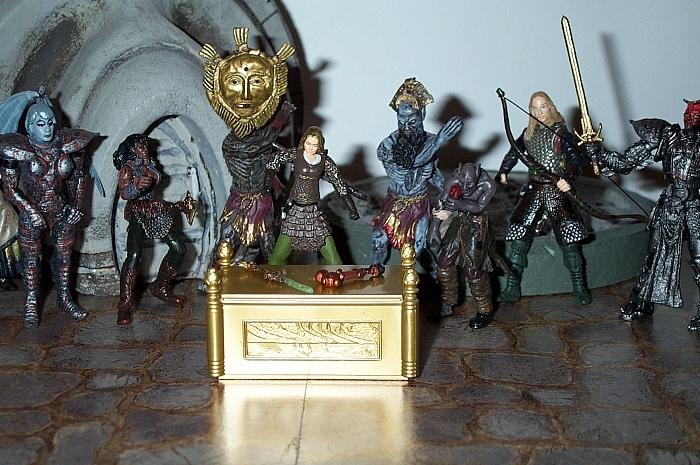 Then I started in on the domiciles and terrain of this great game. Mind you, Morrowind is an immersive game that is truly open ended, and can be modded to the stratosphere. All failings I suffer and share in my tactile life, I can either share or remove for my character in the game. RPG (Role Playing Game) extraordinaire, to be correct. The immersion was so great in the game and also from the mods themselves, that I was inspired to write an entire novel (truly, over 392 pages in Microsoft Word!) about my poor reluctant hero Dandowin, an atypical Nord who like myself, had seen far too much bad and only small cherished memories of good: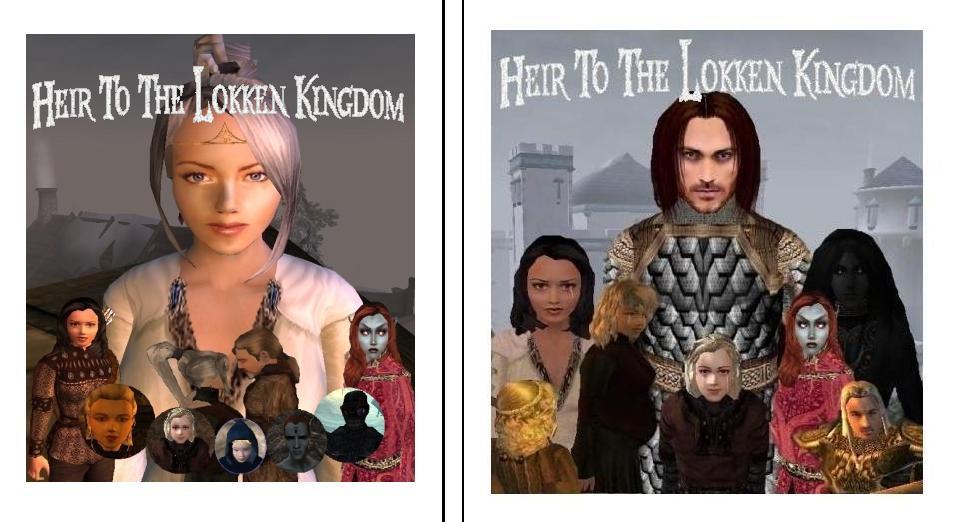 If you're curious, and would like to read some fantasy, the novel is here:
http://capolan.tripod.com/teslokkennovel/
It was a pleasure to undertake for the two years it took to write it, purely because the modders themselves make the characters so real, that you forget these are simple bits and bytes and envision them as living, breathing, entities. The entire novel played out as a movie in my head, and well, I just set it free.
To close on Morrowind, getting back to the creative, I undertook some of the more notable pieces of the game to debut my architectural interest. Such as the Daedric Shrines (think crazy angled odd colored temples devoted to a plethora of old Gods and such..):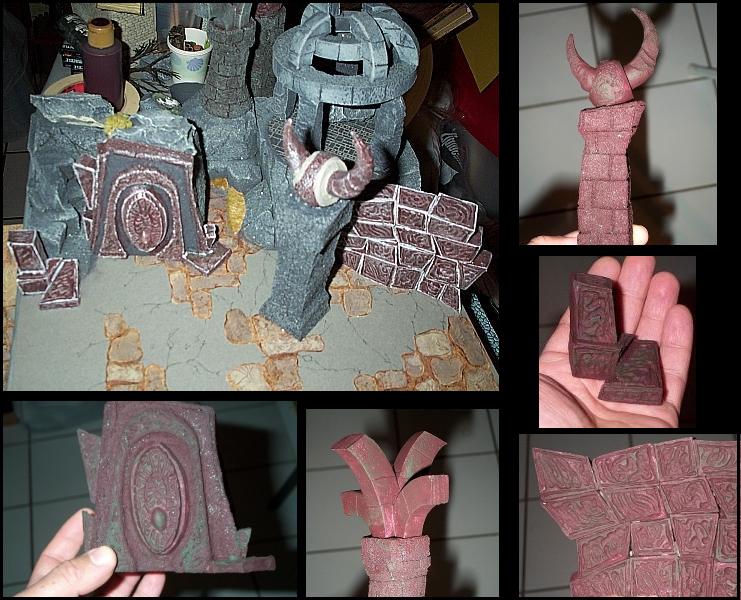 So yeah, 2010 could be called my "Very Morrowind Year" (chuckling).
Thanks to my good friend DocRob, I expanded my creations to step up from the 1:24 scale figures (about 2 1/2 inches to 3 inches), to 1:18 scale, which is affectionally known to us Customizers as "Joe Size"(from GIJOE: Real American Hero). This scale ranges from 3 3/4 inches, to about 4 inches. With a larger scale, comes better opportunity for details, and when it comes to details...
So my character of Dandowin was given life anew, and will be made so that I can change his clothing and armor, like a toy one would be able to purchase. Echoing his life in the story, I was compelled to create his loves, as well as his banes: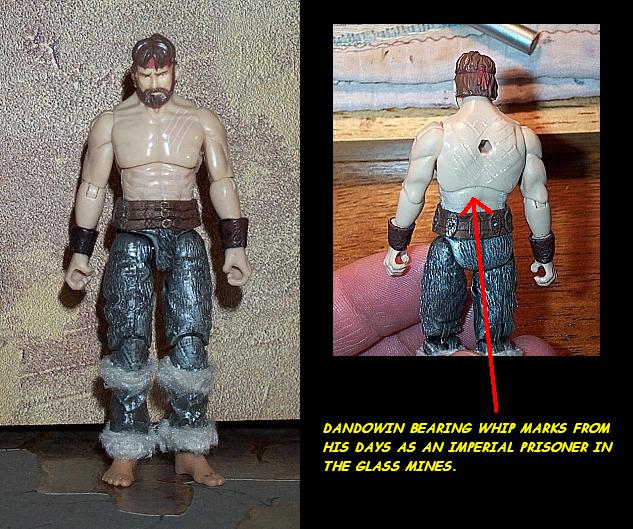 A man must have his loves: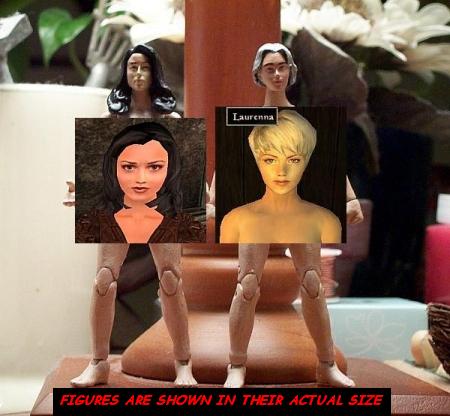 Yeah, you're correct, they are quite nude and the carpet does match the drapes. Makes it easier to design specific clothing changes if you treat the figure as a living entity.
Even his little, dirty footed adventuring Bosmer (Wood Elf) first friend, Arya: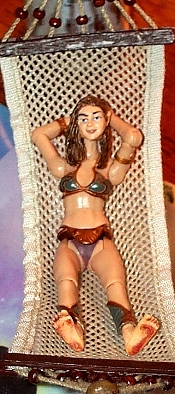 So as of this early morning writing (thunder and lightning outside, another bane of the Eric) I just wanted to share my Morrowind 2010, and eventually will get around when my art table is finally cleared off, to showing the other creative endeavors for the past year, and what I have planned for the new one.
Until then...laugh often, smile honestly, and remember, "In all of time, there is but one, you."
Eric
Posted by capolan at 5:35 AM EST
Updated: Thursday, 6 January 2011 5:43 AM EST